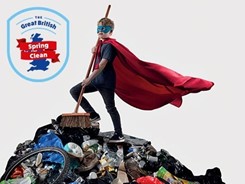 Due to it being Mothers day on Sunday, this weeks litter picking has reluctantly been cancelled.
Do not despair, it will be done next Sunday, April 2nd. Same time, same place. Full details below.
Join the Great British Spring Clean in Poynings on Sunday April 2nd at 11:00. We want to clear the Poynings streets of all litter. Our plan is to have two small groups, one beginning at the western village boundary of The Street,  and the second starting at the roundabout. We'll include Mill Lane, the Causeway and Church Lane as far as Saddlescombe Road. It shouldn't take long – maximum 2 hours. Volunteers please register with John Digby (johndigby@saffronstar.co.uk). Places are strictly limited, so hurry to avoid disappointment!  10 lucky volunteers will be suitably kitted out,  with litter pickers,  gloves, hi-vis tabards, bags and bag hoops, and we have tubs of antibacterial handwipes should they be needed. We plan to have someone in front of the pickers and someone behind to manage traffic at all times. Pickers will be rewarded with biscuits and juice for children and a pint for adults.
Gather at Dyke Farm House at 11:00 Sunday April 2nd.
This is a Poynings Parish Council initiative.
http://www.greatbritishspringclean.org.uk/home/2684