Hi People of Poynings!
I'm Colin's niece and I have just started what I think is a pretty unique dog walking service!
I differ from normal dog walkers because I take your furry friend to ten acres of enclosed private land to let them run and socialise only with the dogs they have been carefully introduced to.
After an hour of exercise and play your dog will be given a mini groom and dropped back home.
All this for just £12, although if you have two dogs that goes down to £9.50 and any dog coming five or more times a week only £9!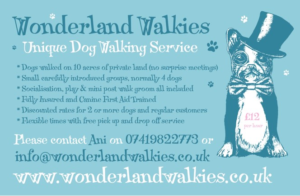 Thanks for your time and look forward to hearing from you. For more info here is my website, Facebook and Instagram pages.
https://www.wonderlandwalkies.co.uk/
https://www.facebook.com/profile.php?id=100019166829351
https://www.instagram.com/wonderlandwalkies/